CNC Nesting Machine FS1325C-N
Simple Description:
The Forsun range of CNC Nesting machines are designed to meet the demands of the
modern Kitchen manufacturer, cabinetmaker or shop fitter and provide the perfect solution
for companies embracing the principles of Nested Based Manufacturing (NBM)
The fully welded steel frame and gantry provide a solid, vibration free, base for the high
power, high speed routing spindles and ensures superior quality edge finish in all
materials including chipboard, MDF, laminated board, Corian and modern composite
materials.
Forsun Nesting machines are available in a range of sizes to suit all standard sheet
dimensions including 2400mm x 1200mm, 2400mm x 1800mm, 3600mm x 1800mm and
twin beds systems for super high production.
Coupled with vacuum hold down beds, fully automatic tool changers, fully automatic
material loading and unloading systems, integrated dust extraction systems, gang drill
attachments and other productivity options, Forsun Nesting machines offer unparalleled
ease-of-use in a complete package that is extremely affordable.
Forsun Nesting routers are compatible with all industry standard software packages and
will easily integrate in to your business.
Machine Pictures:
9.0KW HSD ATC Spindle
Back to Top The Venture Series machine comes standard with a 12HP HSD high frequency
automatic tool changer. This precision spindle requires no maintenance, uses industry standard ER
collets and ISO 30 tool holders. Fully programmable speeds from 6000 to 24000 RPM, and comes
complete with pneumatically retractable vacuum hood.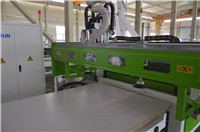 Automatic Material Loader
Designed to automatically pick sheet material from an indexing material lifter and place it on the
machine bed ready for cutting. Ideal for high production environments or where OH&S issues
arise due to manual handling of heavy sheets.
Conveyor off loading system
Combine the conveyor off loading table with the Automatic indexing table and material loader you
have a full automatic material handling solution for your factory. Very popular in Nested Based
Manufacturing situations.
L Shaped boring head
Fully independent X/Y axis drilling head used primarily in the Kitchen and Cabinetmaking
industries, a number of system 32 holes are able to be produced in a single Z movement of the head.
a Vrious number of configurations are available.
Carousel 12 PCS Tool Magazine
The use of an 12 Tool Rotary Carousel speeds up tool changes assuring
faster cycle times increasing production throughput.
Pop Up pins and Side Locators
Automatic pop up pins and side locators enable you to quickly position material on the machine
bed. Once processing has commenced they automatically retract providing a totally clear bed
surface and eliminate the need for fixed locators.
Technical Data: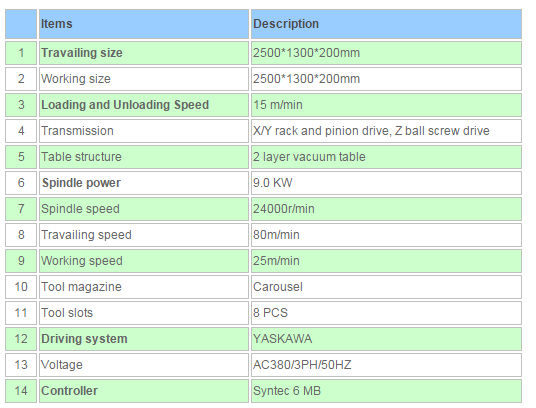 Machine Pictures: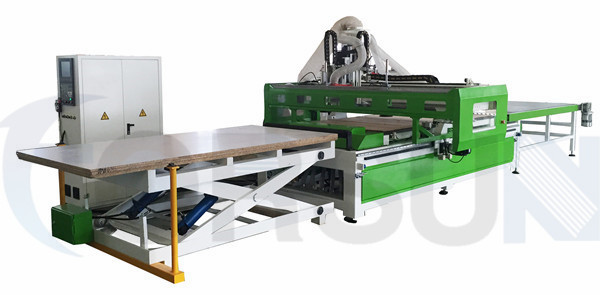 Working Samples: